Sun Ultra 5 and T2/Linux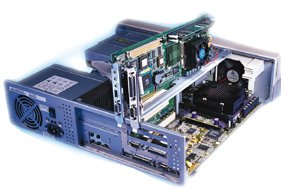 The Sun Ultra 5 series was a UltraSPARC-based computer workstation developed and sold by Sun Microsystems as entry level, low-cost SPARC workstation and was largely based on cheap components from the PC world to reduce cost (IDE disks, ATI Mach64 graphic, ...).
Notes
The built-in IDE and graphic chip (Mach 64) are both a little low-performance. Adding an additional VGA and SCSI cards can bump performance, however if the system should boot from a SCSI disk an Symbios Logic card with Open Firmware Forth code needs to be added. Other cards, such as Adaptec & Co do work in Linux, but an IDE disk needs to be used to load the OS in that case.
Performance Index
32:02m to build binutils-2.41 w/ gcc-9.2 (-O2) on linux-6.5 @400MHz
/proc/cpuinfo
cpu : TI UltraSparc IIi (Sabre)
fpu : UltraSparc IIi integrated FPU
prom : OBP 3.31.0 2001/07/25 20:36
type : sun4u
ncpus probed : 1
ncpus active : 1
D$ parity tl1 : 0
I$ parity tl1 : 0
Cpu0Bogo : 720.67
Cpu0ClkTck : 0000000015752a00
MMU Type : Spitfire
State:
CPU0: online
lspci
00:00.0 Host bridge: Sun Microsystems Computer Corp. Ultra IIi
00:01.0 PCI bridge: Sun Microsystems Computer Corp. Simba Advanced PCI Bridge (rev 13)
00:01.1 PCI bridge: Sun Microsystems Computer Corp. Simba Advanced PCI Bridge (rev 13)
01:01.0 Bridge: Sun Microsystems Computer Corp. EBUS (rev 01)
01:01.1 Ethernet controller: Sun Microsystems Computer Corp. Happy Meal (rev 01)
01:02.0 VGA compatible controller: ATI Technologies Inc 3D Rage Pro 215GP (rev 5c)
01:03.0 IDE interface: Silicon Image, Inc. PCI0646 (rev 03)