Nintendo Wii (Revolution) and T2/Linux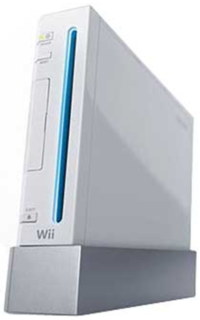 The Nintendo Wii is the successor of the Nintendo Game Cube, and actually quite simillar in architecture with updated hardware specs:
729 MHz IBM PowerPC core, code name: "Broadway"
243 MHz ATi GPU, code name: "Hollywood"
24 MB T-SRAM, main memory
64 MB GDDR3, secondary memory
3 MB texture memory, GPU on-chip
512MB internal flash memory
Additional expansion options include:
SD memory card slot
DVD drive
2 USB 2.0 ports
built-in 802.11b/g Wi-Fi W-Lan
and some proprietrary Nintendo (Game Cube inherited) connectors, such as GameCube controller and memory cards, ...
Video output is limited to 480p, 576i via composite, S-Video, RGB SCART. An special VGA adapter cable appears to exist, too.
Notes
/proc/cpuinfo
processor : 0
cpu : 740/750
clock : 729.000000MHz
revision : 113.3 (pvr 0008 7103)
bogomips : 121.34
timebase : 60750000
platform : wii
vendor : IBM
machine : Nintendo Wii
lspci
N.A.