TerraMaster F2-220 and T2/Linux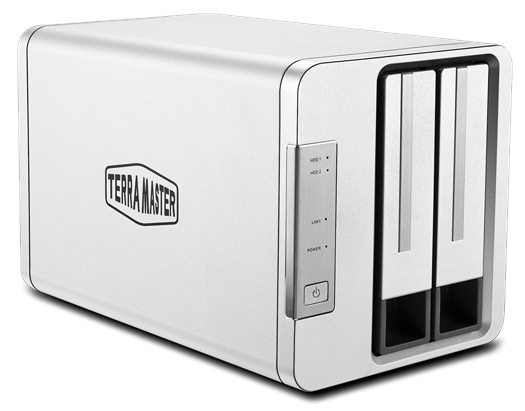 The TerraMaster F2-220 is a small, SOHO two SATA 3.5" bays NAS server.
Although Intel is branding the CPU as Celeron, it is only a dual core Atom.
Notes
It boots from an internal 8GB USB thumb drive, which can easily be swapped for your own system, or alternatively directly bootet from the SATA drives.
Should you need video output for debugging an internal 12-bin header is avaialbe to connect a HD15 VGA flat ribbon cable.
Notes
/proc/cpuinfo
processor : 0
vendor_id : GenuineIntel
cpu family : 6
model : 55
model name : Intel(R) Celeron(R) CPU J1800 @ 2.41GHz
stepping : 8
microcode : 0x833
cpu MHz : 1332.733
cache size : 1024 KB
physical id : 0
siblings : 2
core id : 0
cpu cores : 2
apicid : 0
initial apicid : 0
fpu : yes
fpu_exception : yes
cpuid level : 11
wp : yes
flags : fpu vme de pse tsc msr pae mce cx8 apic sep mtrr pge mca cmov pat pse36 clflush dts acpi mmx fxsr sse sse2 ss ht tm pbe syscall nx rdtscp lm constant_tsc arch_perfmon pebs bts rep_good nopl xtopology tsc_reliable nonstop_tsc aperfmperf tsc_known_freq pni pclmulqdq dtes64 monitor ds_cpl vmx est tm2 ssse3 cx16 xtpr pdcm sse4_1 sse4_2 movbe popcnt tsc_deadline_timer rdrand lahf_lm 3dnowprefetch epb tpr_shadow vnmi flexpriority ept vpid tsc_adjust smep erms dtherm ida arat
bugs :
bogomips : 4831.40
clflush size : 64
cache_alignment : 64
address sizes : 36 bits physical, 48 bits virtual
power management:

processor : 1
vendor_id : GenuineIntel
cpu family : 6
model : 55
model name : Intel(R) Celeron(R) CPU J1800 @ 2.41GHz
stepping : 8
microcode : 0x833
cpu MHz : 1332.733
cache size : 1024 KB
physical id : 0
siblings : 2
core id : 1
cpu cores : 2
apicid : 2
initial apicid : 2
fpu : yes
fpu_exception : yes
cpuid level : 11
wp : yes
flags : fpu vme de pse tsc msr pae mce cx8 apic sep mtrr pge mca cmov pat pse36 clflush dts acpi mmx fxsr sse sse2 ss ht tm pbe syscall nx rdtscp lm constant_tsc arch_perfmon pebs bts rep_good nopl xtopology tsc_reliable nonstop_tsc aperfmperf tsc_known_freq pni pclmulqdq dtes64 monitor ds_cpl vmx est tm2 ssse3 cx16 xtpr pdcm sse4_1 sse4_2 movbe popcnt tsc_deadline_timer rdrand lahf_lm 3dnowprefetch epb tpr_shadow vnmi flexpriority ept vpid tsc_adjust smep erms dtherm ida arat
bugs :
bogomips : 4833.37
clflush size : 64
cache_alignment : 64
address sizes : 36 bits physical, 48 bits virtual
power management:


lspci
00:00.0 Host bridge: Intel Corporation Atom Processor Z36xxx/Z37xxx Series SoC Transaction Register (rev 0e)
00:02.0 VGA compatible controller: Intel Corporation Atom Processor Z36xxx/Z37xxx Series Graphics & Display (rev 0e)
00:13.0 SATA controller: Intel Corporation Atom Processor E3800 Series SATA AHCI Controller (rev 0e)
00:14.0 USB controller: Intel Corporation Atom Processor Z36xxx/Z37xxx, Celeron N2000 Series USB xHCI (rev 0e)
00:1a.0 Encryption controller: Intel Corporation Atom Processor Z36xxx/Z37xxx Series Trusted Execution Engine (rev 0e)
00:1c.0 PCI bridge: Intel Corporation Atom Processor E3800 Series PCI Express Root Port 1 (rev 0e)
00:1c.1 PCI bridge: Intel Corporation Atom Processor E3800 Series PCI Express Root Port 2 (rev 0e)
00:1c.2 PCI bridge: Intel Corporation Atom Processor E3800 Series PCI Express Root Port 3 (rev 0e)
00:1c.3 PCI bridge: Intel Corporation Atom Processor E3800 Series PCI Express Root Port 4 (rev 0e)
00:1f.0 ISA bridge: Intel Corporation Atom Processor Z36xxx/Z37xxx Series Power Control Unit (rev 0e)
00:1f.3 SMBus: Intel Corporation Atom Processor E3800 Series SMBus Controller (rev 0e)
02:00.0 Ethernet controller: Realtek Semiconductor Co., Ltd. RTL8111/8168/8411 PCI Express Gigabit Ethernet Controller (rev 07)

lsusb
Bus 002 Device 001: ID 1d6b:0003 Linux Foundation 3.0 root hub
Bus 001 Device 001: ID 1d6b:0002 Linux Foundation 2.0 root hub