Samsung NC20 and T2/Linux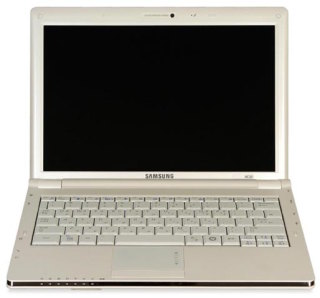 The first commercially available device spotting the VIA Nano CPU.
Notes
At least the German keyboard layout is non-standard and thus rather unpleassuant, especially with common Unix use patterns.
In contrast to the regular (non-ULV) VIA Nano on the VB8001 VIA reference board the U2250 CPU does not appear to support the VMX / VT virtualization extension (at least the BIOS does not turn it on) - and thus does not allow to accelerate Qemu with KVM.
/proc/cpuinfo
processor : 0
vendor_id : CentaurHauls
cpu family : 6
model : 15
model name : VIA Nano processor U2250@1300+MHz
stepping : 2
cpu MHz : 1596.018
cache size : 1024 KB
fdiv_bug : no
hlt_bug : no
f00f_bug : no
coma_bug : no
fpu : yes
fpu_exception : yes
cpuid level : 10
wp : yes
flags : fpu vme de pse tsc msr pae mce cx8 apic sep mtrr pge mca cmov pat clflush acpi mmx fxsr sse sse2 ss tm syscall fxsr_opt rdtscp lm up pni monitor est tm2 ssse3 cx16 xtpr rng rng_en ace ace_en ace2 phe phe_en lahf_lm
bogomips : 3194.15
clflush size : 64
power management:

lspci
0000:00:00.0 Host bridge: VIA Technologies, Inc.: Unknown device 0353 (rev 12)
0000:00:00.1 Host bridge: VIA Technologies, Inc.: Unknown device 1353
0000:00:00.2 Host bridge: VIA Technologies, Inc.: Unknown device 2353
0000:00:00.3 Host bridge: VIA Technologies, Inc.: Unknown device 3353
0000:00:00.4 Host bridge: VIA Technologies, Inc.: Unknown device 4353
0000:00:00.5 PIC: VIA Technologies, Inc.: Unknown device 5353
0000:00:00.6 Host bridge: VIA Technologies, Inc.: Unknown device 6353
0000:00:00.7 Host bridge: VIA Technologies, Inc.: Unknown device 7353
0000:00:01.0 VGA compatible controller: VIA Technologies, Inc.: Unknown device 1122 (rev 11)
0000:00:03.0 PCI bridge: VIA Technologies, Inc.: Unknown device e353
0000:00:03.1 PCI bridge: VIA Technologies, Inc.: Unknown device f353
0000:00:0d.0 FLASH memory: VIA Technologies, Inc.: Unknown device 9530
0000:00:0f.0 IDE interface: VIA Technologies, Inc.: Unknown device 5324
0000:00:10.0 USB Controller: VIA Technologies, Inc. VT82xxxxx UHCI USB 1.1 Controller (rev a0)
0000:00:10.1 USB Controller: VIA Technologies, Inc. VT82xxxxx UHCI USB 1.1 Controller (rev a0)
0000:00:10.2 USB Controller: VIA Technologies, Inc. VT82xxxxx UHCI USB 1.1 Controller (rev a0)
0000:00:10.4 USB Controller: VIA Technologies, Inc. USB 2.0 (rev 90)
0000:00:11.0 ISA bridge: VIA Technologies, Inc.: Unknown device 8353
0000:00:11.7 Host bridge: VIA Technologies, Inc.: Unknown device a353
0000:00:14.0 Class 0403: VIA Technologies, Inc.: Unknown device 3288 (rev 20)
0000:01:00.0 Ethernet controller: Atheros Communications, Inc.: Unknown device 001c (rev 01)
0000:02:00.0 Ethernet controller: Marvell Technology Group Ltd.: Unknown device 4354 (rev 13)

lsusb
Bus 004 Device 003: ID 0ac8:c326
Bus 004 Device 001: ID 1d6b:0002
Bus 003 Device 002: ID 0a5c:2101 Broadcom Corp.
Bus 003 Device 001: ID 1d6b:0001
Bus 002 Device 001: ID 1d6b:0001
Bus 001 Device 001: ID 1d6b:0001