Dell XPS M1210 and T2/Linux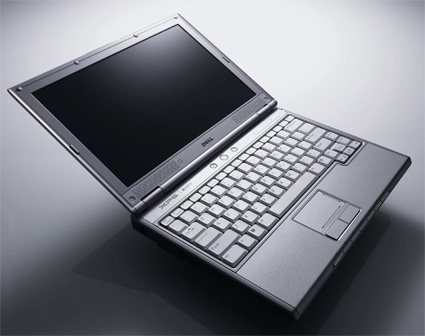 A high performance ultra-portable (12.1" screen) notebook featuring a new case design, Intel Core Duo processor technology.
Stuff that doesn't work
Front mic doesn't work (hda-intel chipset).
Ricoh Card Reader doesn't work with the latest kernel, but it's probably possible to use the new, experimetal SD Ricoh driver.
Notes
Suspend to RAM works fine with X.org and NVIDIA driver.
/proc/cpuinfo
processor : 0
vendor_id : GenuineIntel
cpu family : 6
model : 15
model name : Intel(R) Core(TM)2 CPU T7200 @ 2.00GHz
stepping : 6
cpu MHz : 2000.000
cache size : 4096 KB
physical id : 0
siblings : 2
core id : 0
cpu cores : 2
fdiv_bug : no
hlt_bug : no
f00f_bug : no
coma_bug : no
fpu : yes
fpu_exception : yes
cpuid level : 10
wp : yes
flags : fpu vme de pse tsc msr pae mce cx8 apic sep mtrr pge mca cmov pat pse36 clflush dts acpi mmx fxsr sse sse2 ss ht tm pbe nx lm constant_tsc arch_perfmon pebs bts pni monitor ds_cpl vmx est tm2 ssse3 cx16 xtpr lahf_lm
bogomips : 3998.74
clflush size : 64

processor : 1
vendor_id : GenuineIntel
cpu family : 6
model : 15
model name : Intel(R) Core(TM)2 CPU T7200 @ 2.00GHz
stepping : 6
cpu MHz : 2000.000
cache size : 4096 KB
physical id : 0
siblings : 2
core id : 1
cpu cores : 2
fdiv_bug : no
hlt_bug : no
f00f_bug : no
coma_bug : no
fpu : yes
fpu_exception : yes
cpuid level : 10
wp : yes
flags : fpu vme de pse tsc msr pae mce cx8 apic sep mtrr pge mca cmov pat pse36 clflush dts acpi mmx fxsr sse sse2 ss ht tm pbe nx lm constant_tsc arch_perfmon pebs bts pni monitor ds_cpl vmx est tm2 ssse3 cx16 xtpr lahf_lm
bogomips : 3994.80
clflush size : 64
lspci
00:00.0 Host bridge: Intel Corporation Mobile 945GM/PM/GMS, 943/940GML and 945GT Express Memory Controller Hub (rev 03)
00:01.0 PCI bridge: Intel Corporation Mobile 945GM/PM/GMS, 943/940GML and 945GT Express PCI Express Root Port (rev 03)
00:1b.0 Audio device: Intel Corporation 82801G (ICH7 Family) High Definition Audio Controller (rev 01)
00:1c.0 PCI bridge: Intel Corporation 82801G (ICH7 Family) PCI Express Port 1 (rev 01)
00:1c.1 PCI bridge: Intel Corporation 82801G (ICH7 Family) PCI Express Port 2 (rev 01)
00:1c.3 PCI bridge: Intel Corporation 82801G (ICH7 Family) PCI Express Port 4 (rev 01)
00:1d.0 USB Controller: Intel Corporation 82801G (ICH7 Family) USB UHCI Controller #1 (rev 01)
00:1d.1 USB Controller: Intel Corporation 82801G (ICH7 Family) USB UHCI Controller #2 (rev 01)
00:1d.2 USB Controller: Intel Corporation 82801G (ICH7 Family) USB UHCI Controller #3 (rev 01)
00:1d.3 USB Controller: Intel Corporation 82801G (ICH7 Family) USB UHCI Controller #4 (rev 01)
00:1d.7 USB Controller: Intel Corporation 82801G (ICH7 Family) USB2 EHCI Controller (rev 01)
00:1e.0 PCI bridge: Intel Corporation 82801 Mobile PCI Bridge (rev e1)
00:1f.0 ISA bridge: Intel Corporation 82801GBM (ICH7-M) LPC Interface Bridge (rev 01)
00:1f.2 IDE interface: Intel Corporation 82801GBM/GHM (ICH7 Family) SATA IDE Controller (rev 01)
00:1f.3 SMBus: Intel Corporation 82801G (ICH7 Family) SMBus Controller (rev 01)
01:00.0 VGA compatible controller: nVidia Corporation G72M [GeForce Go 7400] (rev a1)
03:00.0 Ethernet controller: Broadcom Corporation BCM4401-B0 100Base-TX (rev 02)
03:01.0 FireWire (IEEE 1394): Ricoh Co Ltd R5C832 IEEE 1394 Controller
03:01.1 SD Host controller: Ricoh Co Ltd R5C822 SD/SDIO/MMC/MS/MSPro Host Adapter (rev 19)
03:01.2 System peripheral: Ricoh Co Ltd Unknown device 0843 (rev 01)
03:01.3 System peripheral: Ricoh Co Ltd R5C592 Memory Stick Bus Host Adapter (rev 0a)
03:01.4 System peripheral: Ricoh Co Ltd xD-Picture Card Controller (rev 05)
0c:00.0 Network controller: Intel Corporation PRO/Wireless 3945ABG Network Connection (rev 02)