Apple iBook G3 and T2/Linux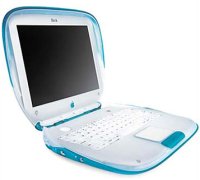 The first iBooks where designed for children and students, with a large distinctive shape, translucent clear and colored plastics and where the first mainstream computer ever designed and sold with internal wireless networking.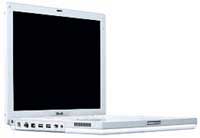 The next generation iBook G3 debuted as completely redesigned from scratch. The bold colors and the radical form-factor were abandoned for a white and slim-line polycarbonate shell.
Notes
Many Linux developers and users brought iBook back at the time due to superb power management, including suspend to RAM implementation in Linux. Allowing to sleep the machine and instantly continue working anytime, everywhere. Equivalent functionalatiy is still not that stable in the x86-world due to the complexity and defect implementations of the ACPI standard used there.
Despite of the analog modem, the hardware is fully supported by Linux, including open source 3D acceleration by the r100/r200 radeon driver.
/proc/cpuinfo
rocessor : 0
cpu : 750FX
temperature : 0-3 C (uncalibrated)
clock : 400MHz
revision : 2.3 (pvr 7000 0203)
bogomips : 793.71
machine : PowerBook4,3
motherboard : PowerBook4,3 MacRISC2 MacRISC Power Macintosh
detected as : 257 (iBook 2 rev. 2)
pmac flags : 0000001b
L2 cache : 512K unified
memory : 256MB
pmac-generation : NewWorld
lspci
0000:00:0b.0 Host bridge: Apple Computer Inc. UniNorth/Pangea AGP
0000:00:10.0 VGA compatible controller: ATI Technologies Inc Radeon Mobility M6 LY
0001:10:0b.0 Host bridge: Apple Computer Inc. UniNorth/Pangea PCI
0001:10:17.0 ff00: Apple Computer Inc. KeyLargo/Pangea Mac I/O
0001:10:18.0 USB Controller: Apple Computer Inc. KeyLargo/Pangea USB
0001:10:19.0 USB Controller: Apple Computer Inc. KeyLargo/Pangea USB
0002:20:0b.0 Host bridge: Apple Computer Inc. UniNorth/Pangea Internal PCI
0002:20:0e.0 FireWire (IEEE 1394): Apple Computer Inc. UniNorth/Pangea FireWire
0002:20:0f.0 Ethernet controller: Apple Computer Inc. UniNorth/Pangea GMAC (Sun GEM)