Atmel ATNGW100 T2/Linux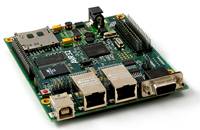 The (AT) NGW100 was the second, and way cheaper, development kit released by Atmel for developers to adapt to the newly invented AVR32 architecture.
In contrast to the SD-RAM equipped STK1000, the NGW100 comes with slower D-RAM, but 4 times as much memory: 32 MB instead of just 8MB.
Without display the NGW100 is more intended for network products, and due to the lower price can be used to base for products.
2x Ethernet
SD slot
1 serial port
device side USB
as well as quite some test pins, etc.
/proc/cpuinfo
processor : 0
cpu family : AVR32B revision 1
cpu type : AP7000 revision 0
i-cache : 16K (4 ways x 128 sets x 32)
d-cache : 16K (4 ways x 128 sets x 32)
bogomips : 260.38
See also