Sgi Origin 200 and T2/Linux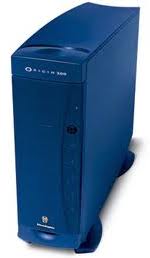 The Origin 200, known also as IP27, is a series of "low-end" server that was manufactured by Sgi from 1997 until 2002.
The distinct blue skins, that can be removed for rack mounting, make it instantly recognizable as a Silicon Graphics machine.
The Origin 200 can be equiped with 64-bit MIPS CPUs running from 180 MHz R10000 up to 270 MHz R12000 in single and dual CPU configurations. NUMAlink 2 (originally CrayLink) interconnection fabric is used to connect multiple modules together in clusters.
The Origin 200 architecture is somewhat similar to the Sgi Octane.
/proc/cpuinfo
system type : SGI Origin
machine : Unknown
processor : 0
cpu model : R10000 V2.6 FPU V0.0
BogoMIPS : 179.20
wait instruction : no
microsecond timers : yes
tlb_entries : 64
extra interrupt vector : no
hardware watchpoint : yes, count: 0, address/irw mask: []
isa : mips1 mips2 mips3 mips4
ASEs implemented :
shadow register sets : 1
kscratch registers : 0
package : 0
core : 0
VCED exceptions : not available
VCEI exceptions : not available

processor : 1
cpu model : R10000 V2.6 FPU V0.0
BogoMIPS : 180.22
wait instruction : no
microsecond timers : yes
tlb_entries : 64
extra interrupt vector : no
hardware watchpoint : yes, count: 0, address/irw mask: []
isa : mips1 mips2 mips3 mips4
ASEs implemented :
shadow register sets : 1
kscratch registers : 0
package : 0
core : 0
VCED exceptions : not available
VCEI exceptions : not available

lspci
00:00.0 SCSI storage controller: QLogic Corp. ISP1020 Fast-wide SCSI (rev 05)
00:01.0 SCSI storage controller: QLogic Corp. ISP1020 Fast-wide SCSI (rev 05)
00:02.0 Unassigned class [ff00]: Silicon Graphics Intl. Corp. IOC3 I/O controller (rev 01)

External links