Sony Vaio VGN-P and T2/Linux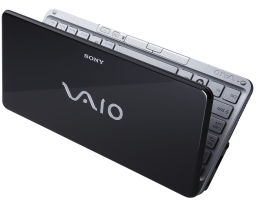 The Sony Vaio VGN-P is a very slim, lightweight and stylish, however "very expensive" sub-notebook that just weights about 620 grams.
Powered by the ULV (Ultra Low Volage) version of the Intel Atom (Z5xx) and new Pulsbo (US15W) chipset it even achieves over 3 hours of battery time with the standard battery, and up to about 8 hours with and optional, extended battery, despite the small size.
Notes
Suspend to RAM did not came back properly on a test machine - though it might with some VBE re-POST glue.
In a quick test the WWAN modem did not show up, although it is listed under "the other OS" as: Option Globetrotter GE40x (0x0af0, 0x7601). It might come up after fiddeling with: /sys/devices/platform/sony-acpi/wwanpower, ...
The machine lacks a digital video output (like DVI / HDMI) - the custom extension port with video out and ethernet only wires out VGA.
Accelerated video is not yet available in an open source form due ot the PowerVR based Intel GMA 500, Pulsbo, chipset.
It looks like the tested machine was an early prototype, the retail version appears to disable the VT of the Intel Z-series Atom in the BIOS, which might be possible to circumvent with some BIOS NVRAM value poking.
/proc/cpuinfo
processor : 0
vendor_id : GenuineIntel
cpu family : 6
model : 28
model name : Intel(R) Atom(TM) CPU Z520 @ 1.33GHz
stepping : 2
cpu MHz : 1333.320
cache size : 512 KB
physical id : 0
siblings : 2
core id : 0
cpu cores : 1
apicid : 0
initial apicid : 0
fdiv_bug : no
hlt_bug : no
f00f_bug : no
coma_bug : no
fpu : yes
fpu_exception : yes
cpuid level : 10
wp : yes
flags : fpu vme de pse tsc msr pae mce cx8 apic sep mtrr pge mca cmov pat clflush dts acpi mmx fxsr sse sse2 ss ht tm pbe nx constant_tsc arch_perfmon pebs bts pni monitor ds_cpl vmx est tm2 ssse3 xtpr lahf_lm
bogomips : 2669.44
clflush size : 64
power management:

processor : 1
vendor_id : GenuineIntel
cpu family : 6
model : 28
model name : Intel(R) Atom(TM) CPU Z520 @ 1.33GHz
stepping : 2
cpu MHz : 1333.320
cache size : 512 KB
physical id : 0
siblings : 2
core id : 0
cpu cores : 1
apicid : 1
initial apicid : 1
fdiv_bug : no
hlt_bug : no
f00f_bug : no
coma_bug : no
fpu : yes
fpu_exception : yes
cpuid level : 10
wp : yes
flags : fpu vme de pse tsc msr pae mce cx8 apic sep mtrr pge mca cmov pat clflush dts acpi mmx fxsr sse sse2 ss ht tm pbe nx constant_tsc arch_perfmon pebs bts pni monitor ds_cpl vmx est tm2 ssse3 xtpr lahf_lm
bogomips : 2666.67
clflush size : 64
power management:
lspci
0000:00:00.0 Host bridge: Intel Corp.: Unknown device 8100 (rev 06)
0000:00:02.0 VGA compatible controller: Intel Corp.: Unknown device 8108 (rev 06)
0000:00:1b.0 Class 0403: Intel Corp.: Unknown device 811b (rev 06)
0000:00:1c.0 PCI bridge: Intel Corp.: Unknown device 8110 (rev 06)
0000:00:1c.1 PCI bridge: Intel Corp.: Unknown device 8112 (rev 06)
0000:00:1d.0 USB Controller: Intel Corp.: Unknown device 8114 (rev 06)
0000:00:1d.1 USB Controller: Intel Corp.: Unknown device 8115 (rev 06)
0000:00:1d.2 USB Controller: Intel Corp.: Unknown device 8116 (rev 06)
0000:00:1d.7 USB Controller: Intel Corp.: Unknown device 8117 (rev 06)
0000:00:1f.0 ISA bridge: Intel Corp.: Unknown device 8119 (rev 06)
0000:00:1f.1 IDE interface: Intel Corp.: Unknown device 811a (rev 06)
0000:01:00.0 Ethernet controller: Marvell Technology Group Ltd.: Unknown device 4380 (rev 10)
0000:02:00.0 Network controller: Atheros Communications, Inc.: Unknown device 002a (rev 01)
lsusb
Bus 004 Device 004: ID 05ca:18b2 Ricoh Company Ltd.
Bus 004 Device 001: ID 1d6b:0002
Bus 003 Device 001: ID 1d6b:0001
Bus 002 Device 002: ID 044e:3017 Alps Electric Co.
Bus 002 Device 001: ID 1d6b:0001
Bus 001 Device 001: ID 1d6b:0001