MSI Megabook S270 and T2/Linux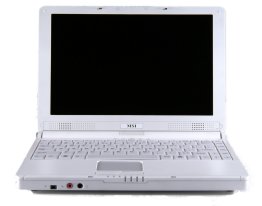 The MSI Megabook S270 series was one of the first and tiniest AMD64 sub-notebook, featuing the AMD Turion64 processor.
Especially for the included features and size this laptop's price tag is rather low.
While the overall quality, especialyl of the slim, colorful and angle independent display and the case is quite good - the keyboard is rather under average.
While the bottom of the laptop stays rather cool, the top side - including the keyboard - becomes warmer and can be a little unpleaseant in hot summer months.
Notes
The laptop comes with an INPROCOMM (Linksys, Cisco) IPN 2220 wireless mini-PCI card for which no open source driver is available. At least running a 32-bit Linux flavour the Windows driver can be used with ndiswrapper and otherwise the card can be exchanged in favour of an Intel IPW2200 easily.
The ATi 200M chip initially lacked open source 3D support, but in the meantime latest X.org and Meas git:HEAD versions are said to driver the 3D engine mostly correctly.
Suspend to RAM just works.
/proc/cpuinfo
processor : 0
vendor_id : AuthenticAMD
cpu family : 15
model : 36
model name : AMD Turion(tm) 64 Mobile Technology MT-34
stepping : 2
cpu MHz : 1790.908
cache size : 1024 KB
fpu : yes
fpu_exception : yes
cpuid level : 1
wp : yes
flags : fpu vme de pse tsc msr pae mce cx8 apic sep mtrr pge mca cmov pat pse36 clflush mmx fxsr sse sse2 pni syscall nx mmxext fxsr_opt lm 3dnowext 3dnow pni lahf_lm
bogomips : 3514.36
TLB size : 1024 4K pages
clflush size : 64
cache_alignment : 64
address sizes : 40 bits physical, 48 bits virtual
power management: ts fid vid ttp [4] [5]
lspci
0000:00:00.0 Host bridge: ATI Technologies Inc RS480 Host Bridge
0000:00:01.0 PCI bridge: ATI Technologies Inc: Unknown device 5a3f (prog-if 00 [Normal decode])
0000:00:13.0 USB Controller: ATI Technologies Inc IXP SB400 USB Host Controller (prog-if 10 [OHCI])
0000:00:13.1 USB Controller: ATI Technologies Inc IXP SB400 USB Host Controller (prog-if 10 [OHCI])
0000:00:13.2 USB Controller: ATI Technologies Inc IXP SB400 USB2 Host Controller (prog-if 20 [EHCI])
0000:00:14.1 IDE interface: ATI Technologies Inc Standard Dual Channel PCI IDE Controller ATI (prog-if 8a [Master SecP PriP])
0000:00:14.3 ISA bridge: ATI Technologies Inc IXP SB400 PCI-ISA Bridge
0000:00:14.4 PCI bridge: ATI Technologies Inc IXP SB400 PCI-PCI Bridge (prog-if 01 [Subtractive decode])
0000:00:14.5 Multimedia audio controller: ATI Technologies Inc IXP SB400 AC'97 Audio Controller (rev 01)
0000:00:14.6 Modem: ATI Technologies Inc ATI SB400 - AC'97 Modem Controller (rev 01) (prog-if 00 [Generic])
0000:00:18.0 Host bridge: Advanced Micro Devices [AMD] K8 [Athlon64/Opteron] HyperTransport Technology Configurtion
0000:00:18.1 Host bridge: Advanced Micro Devices [AMD] K8 [Athlon64/Opteron] Address Map
0000:00:18.2 Host bridge: Advanced Micro Devices [AMD] K8 [Athlon64/Opteron] DRAM Controller
0000:00:18.3 Host bridge: Advanced Micro Devices [AMD] K8 [Athlon64/Opteron] Miscellaneous Control
0000:01:05.0 VGA compatible controller: ATI Technologies Inc ATI Radeon XPRESS 200M 5955 (PCIE) (prog-if 00 [VGA])
0000:02:03.0 Ethernet controller: Realtek Semiconductor Co., Ltd. RTL-8139/8139C/8139C+ (rev 10)
0000:02:04.0 CardBus bridge: Ricoh Co Ltd RL5c476 II (rev ac)
0000:02:04.1 CardBus bridge: Ricoh Co Ltd RL5c476 II (rev ac)
0000:02:04.2 FireWire (IEEE 1394): Ricoh Co Ltd R5C552 IEEE 1394 Controller (rev 04) (prog-if 10 [OHCI])
0000:02:09.0 Ethernet controller: Linksys, A Division of Cisco Systems [AirConn] INPROCOMM IPN 2220 Wireless LAN Adapter (rev 01)

External links