MiniNote 2140 and T2/Linux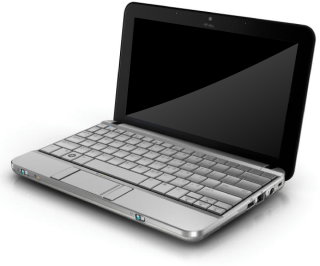 The HP 2140 builds upon the widely highly praised alumnium case and outstanding keyboard of the HP Mini 2133, and adds a larger screen (10 inch, up from 8) as well as slightly faster Intel Atom CPU.
Notes
Inherits best keyboard in class at the time of writing from the HP Mini 2133, despite the compact size allows for comfortable typing.
Unlike many other reviewers, we found the buttons on the side of the touchpad rather handy and space saving and not too annoying as most high profile sides suggest.
/proc/cpuinfo
processor : 0
vendor_id : GenuineIntel
cpu family : 6
model : 28
model name : Intel(R) Atom(TM) CPU N270 @ 1.60GHz
stepping : 2
cpu MHz : 1596.012
cache size : 512 KB
physical id : 0
siblings : 2
core id : 0
cpu cores : 1
apicid : 0
initial apicid : 0
fdiv_bug : no
hlt_bug : no
f00f_bug : no
coma_bug : no
fpu : yes
fpu_exception : yes
cpuid level : 10
wp : yes
flags : fpu vme de pse tsc msr pae mce cx8 apic sep mtrr pge mca cmov pat clflush dts acpi mmx fxsr sse sse2 ss ht tm pbe nx constant_tsc arch_perfmon pebs bts pni monitor ds_cpl est tm2 ssse3 xtpr lahf_lm
bogomips : 3196.51
clflush size : 64
power management:

processor : 1
vendor_id : GenuineIntel
cpu family : 6
model : 28
model name : Intel(R) Atom(TM) CPU N270 @ 1.60GHz
stepping : 2
cpu MHz : 1596.012
cache size : 512 KB
physical id : 0
siblings : 2
core id : 0
cpu cores : 1
apicid : 1
initial apicid : 1
fdiv_bug : no
hlt_bug : no
f00f_bug : no
coma_bug : no
fpu : yes
fpu_exception : yes
cpuid level : 10
wp : yes
flags : fpu vme de pse tsc msr pae mce cx8 apic sep mtrr pge mca cmov pat clflush dts acpi mmx fxsr sse sse2 ss ht tm pbe nx constant_tsc arch_perfmon pebs bts pni monitor ds_cpl est tm2 ssse3 xtpr lahf_lm
bogomips : 3192.12
clflush size : 64
power management:
lspci
TODO
lsusb
TODO